4

New York (CUNY)

Ann Fiddler
Course Marking Drivers
City University of New York (CUNY) has a central student information and registration system called CUNYFirst, a configured version of Peoplesoft's enterprise content management system. It was rolled out in phases to the campuses starting in 2013 and was in place at all 24 campuses in 2017. It also has a global search function which enables students to search by a variety of criteria, including time and day but also course attributes like "Writing Intensive" or whether it fits into one the general education requirements referred to as "Pathways" at CUNY.
The idea to add a search attribute denoting OER began in Fall 2016 and was conceived during ATD grantee convenings. Campus leaders discussed how best to name the designation. At the time, it seemed trying to educate students about the term "OER" would be an additional barrier to marketing and communications. Additionally, it became clear that Zero Textbook Cost courses could be a combination of OER and openly accessible material and library resources. Though under the initial ATD grant we were required to use only openly licensed materials, the larger framework of all the open and affordable initiatives at CUNY was more forgiving. There were already campus initiatives aimed at eliminating the cost of textbooks, but not necessarily using only openly licensed materials. As long as copyright was not infringed, it was acceptable to use freely available materials as well as library licensed content. The concept of a zero textbook cost course took root. After reviewing what other institutions were using and internal conversations, "Zero Textbook Cost" (ZTC) course was settled on as the name. Implementing the designation was not a difficult process. The central Registrar added it to CUNYFirst, where it exists along with other attributes. The Registrar was supportive and cooperative, and the office continues to work with OLS to provide and hone data.
Implementation
The first task was to get faculty to apply the attribute to their course in CUNYFirst, a process which varied from campus to campus. The course attribute has to in some way be reported to the registrar to appear in the registration system. Faculty themselves cannot add an attribute to their course via CUNYFirst. Faculty are required to input textbook information into CUNYFirst, which is where they can indicate that course is not using a textbook or is using a free or open textbook. However, this is a separate process from marking the course ZTC in CUNYFirst. Responsibility for officially marking ZTC courses, based on faculty-submitted data, is managed by the department chair or the course coordinator.
Though the process initially seemed simple, it turned out to be a challenge to some campuses. OLS put together documentation to educate campuses stakeholders on how to indicate a course as ZTC in CUNYFirst and shared this information on the library's website. Still, some educators felt it was an additional burden they were unhappy about. The implementation team also heard from campus OER leads both individually and as a group at our bi-semester OER representatives meetings. The concerns noted that navigating inconsistent workflows for course marking resulted in a significant increase in the representatives' own workloads. They also shared that faculty were frustrated with the process. To alleviate the burden, OLS hired a part-time employee to work in the central registrar's office who assumed responsibility for creating a list of ZTC classes that could be sent directly to the central registrar for coding.
Additionally, Akademos, the online bookstore that serves a majority of campuses, cooperated in the process. All instructors are required to report their resource use to the bookstore. The store customized their system for CUNY allowing instructors to select a button indicating that the course is a "Zero Textbook Cost" course (See Figure 2). This automatically syncs with the registration system triggering the attribute. However, even with this ease of use, problems remained. After looking closely at courses that had been designated ZTC via Akademos, OLS discovered that some instructors who had chosen the ZTC option also listed a required textbook. Although this is likely user error, it is troubling that students searching for a ZTC course could sign up for a course that might not actually be ZTC. Akademos continues to work with us to modify the system to prevent this error.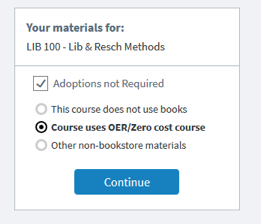 In addition to these workflow issues, we received anecdotal indications that some faculty were reluctant to list their course as ZTC due to perceived pressure from within their department. For example, a faculty member expressed trepidation at adding the ZTC designation because they felt that it would be looked down upon by the department chair and the faculty member did not have tenure. While there is strong support of the initiative, some faculty remain steadfast in their belief that students should choose courses based on the instructor rather than resource costs. The implementation team has treaded lightly around these issues.
In a place as large and sprawling as CUNY, communication is always a challenge. As a commuter university, faculty and students come to campus only when they need to and student involvement in other aspects of academic life is limited. Therefore, reaching students and faculty is a major challenge. Despite some success, there is still more work to be done to fine-tune processes and try new methods of communicating the existence and importance of the ZTC attribute. It has also become clear that it is necessary to implement a Low Cost LTC attribute to be inclusive to classes that cannot abide by the no cost attribute.
Challenges and Lessons Learned
According to a survey administered in Fall 2017 and Spring 2018 to students who were in ZTC courses at one of the senior colleges, the vast majority of students didn't actually know they were in a ZTC course when they signed up nor were they aware of the ZTC attribute in general. As we approach the fourth semester of the ZTC attribute's existence, we are taking steps to partner with CUNY Central's Student Affairs office to fine tune promotional materials and are beginning to network with various student leadership groups at CUNY campuses to enlist them in getting the word out to students. We hope that increasing student awareness of the ZTC attribute will increase student demand for such courses, which is ultimately a path towards sustainability for any OER or ZTC initiative.