Chapter 16: Structural Systems
16.1 SET UP A STRUCTURAL PROJECT AND LINK AN ARCHITECTURAL FILE
Open the Revit application
In the Revit Home Page click New
In the New Project window use the drop-down menu to choose the Systems Template
Choose to create a new Project
Click OK
Go to File then Save As
Save the project in a known location under the name Class Project 1 Structural Concrete_Last First
Go to the Insert tab and click the Link Revit icon
Link the Class Project 1_Last First.rvt file then click Open
Select the linked file and Pin the file to the canvas
Go to the Project Browser and open any elevation view
The linked Revit file levels show but are not accessible. The structural template default levels may be hidden behind the linked file. Select a level then click and drag the hollow circle out to the right as shown in Figure 16.1
Adjust Level 2 height to align to the bottom of the floor slab also shown in Figure 16.1
In the Architecture tab use the Level icon to add Level 3, 4, and Roof. Rename any levels as necessary but do not change the names of corresponding views
Make one last level at -5'0" and rename this T.O. Footing

Figure 16.1 Levels added to the Structural file
16.2 PLACE STRUCTURAL GRIDS
In the Level 1 floor plan view, change the visual style to hidden line and the detail level to fine.
Go to the Structural tab, under the Datum panel, select the Grid icon
On the Draw panel choose the pick lines tool
On the Options Bar change the Offset to 1'6"
Select the 7 exterior walls as shown in Figure 16.2 so grids lines are placed on the interior spaces
Press escape twice to end the grid command

Figure 16.2 Seven placed grids using the pick lines tool shown in Level 1 floor plan view
Select a grid then click and drag the grips away from the building as shown in Figure 16.3. Repeat this step until the ends of all 7 grids are aligned.
Select each grid then check or uncheck the boxes at the end of the grids to turn on and off the bubbles to match what is shown in 16.3

Grips are hollow blue circles located at the end of each grid used to change the length. The boxes at the end of each grid line will turn on and off the bubble annotation

Place the remaining grids and use dimensions strings to correct spans as necessary
Rename the horizontal grids by number and the vertical grids using letters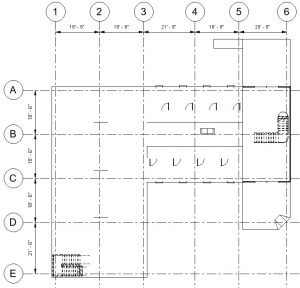 Figure 16.3 Completed grid lines placement, renaming, and dimensioning shown in Level 1 floor plan
If the dimensions are too hard to read, change the scale located on the View Control Bar.
16.3 PLACE FOUNDATION WALLS
This section may be easier to complete with the Grid lines temporarily hidden. To do this select any grid
On the View Control Bar, select the Temporary Hidden/Isolate icon – then chose Hide Category
On the Structures tab, click the Wall: Structural icon
In the Properties Palette use the Type Selector to find Foundation – 12" Concrete
Click the Edit Type button
In the Type Properties window select Duplicate
Rename it 3'0" Concrete
Next to Structure select the Edit… button
In the Edit Assembly window change the thickness to 3'0"
Click OK to close out of both windows
On the Ribbon choose the Pick lines tool
On the Option Bar change the following parameters

Depth: TO Footing
Location line: Finish Face: Interior
Offset: 0'6"

Hover over an exterior wall until the dashed blue line is on the interior side of the line. Click to place the wall.
Do this for each exterior lines as shown highlighted in yellow in Figure 16.4 – Use any other tools necessary to complete this task


Figure 16.4 Foundation walls highlighted, shown in Level 1 floor plan view (left) and 3D view (right)
Open the 3D view
In the Properties Palette change Discipline to Coordination
On the View Control Bar change to a Detailed level and Realistic Visual Style
16.4 PLACE BEARING FOOTING
Go to the View tab
Use the Plan View drop down to select Structural Plan
In the New Structural Plan window select TO Footing and click OK
Go to the Structure tab
Select the Wall: Structure icon
In the Properties Palette click the Edit Type button
Select Duplicate then rename this element Bearing Foot 4'0"X2'0"
Next to Structure click the Edit… button
Change the thickness to 4'0"
Click OK to close both windows
On the Options Bar change the following Parameters

Depth: Unconnected at 1'0"
Location Line: Wall Centerline
Offset: 0'0"

In the Properties Palette Change the Base Offset to -1'0"
Hover the cursor over a foundation wall then press the tab key until all the foundation walls are highlighted. Click once to place all bearing footings.


Figure 16.5 bearing Footing walls shown in plan view (left) and 3D view (right)
16.5 PLACE CONCRETE PIERS AND PILASTERS
In the TO Footing plan view go to the Structure tab
Click the Column icon
Use the Type Selector to choose the 12X18 Column
Click the Edit Type button
Duplicate the element and name it 2'0"X2'0" then click OK
In the Type Properties window change the b value to 2'0" and the h value to 2'0" then click OK
On the Option bar change the following parameters

Depth to Height
Unconnected to Roof

Place a column at the intersection of Grid 1 and Grid A
On the Ribbon select the At Grids icon
Click and drag to select all the grid lines
Click the green checkmark to finish
Select and delete any unnecessary columns

Figure 16.6 Placed columns shown in plan view (left) and 3D view (right)
In the Level 1 view, go to the Structures tab, under the Foundation panel, select the Isolated icon
In the Properties Palette click the Edit Type button
Duplicate the element and name it 4'0"x4'0"x1'0"
Change the following parameters

Foundation Thickness: 1'0"
Width: 4'0"
Length: 4'0"
Then click OK

On the Ribbon, select the At Columns icon
Click and drag to highlight all the columns
Click the green checkmark to finish


Figure 16.7 Completed Columns and Pilasters shown in Plan view (left) and 3D view (right – worms eye view – underneath the model looking up)
Save the project and close the Structural Concrete file
16.6 PLACE STEEL COLUMNS
Repeat the following sections for a new file

16.1 to create a new Structural project and name this file Class Project 1 Structural Steel_Last First
16.2 Place Structural Grids
16.3 Place Foundation Walls
16.4 Place Bearing Footings

In Level 1 Plan view, go to the Structures tab and click the Column icon 
Select the 2'0"x2'0" Concrete Column
On the Option Bar change Level to TO Footing with a Depth unconnected for 8'0"
Click to place a column on the intersection of Grid 2 and Grid B
On the Ribbon select the At Grids icon 
Click and drag to select all the grid lines
Click the green  checkmark to finish
Select and delete any unnecessary columns
Go to the Structures tab, under the Foundation panel, select the Isolated icon 
Select the 4'0"x4'0"x1'0" bearing footing
On the Ribbon, select the At Columns icon
Click and drag to highlight all the columns
Click the green checkmark  to finish


Figure 16.8 Concrete Piers and Pilasters shown in Plan view (left) 3D view (right – underneath the model looking up)
Open the Level 1 plan view
In the Properties Palette, click on the Edit… button next to Visibility/ Graphics Override
Go to the Revit Links tab then uncheck the box to the left of the Architecture class file
Click OK
Go to the Structures tab and click the Column icon 
Select the Load Family icon
Follow this folder directory

English Imperial, Structural Columns, Steel, AISC 14.1, HP Shapes – Column.rfa

The Specify Types window will appear. Choose the HP 8×36
On the Option Bar change the height to Roof
Place a column at the intersection of Grid 1 and Grid A
On the Ribbon select the At Grids icon 
Click and drag to select all the grid lines
Click the green  checkmark to finish
Select and delete any unnecessary columns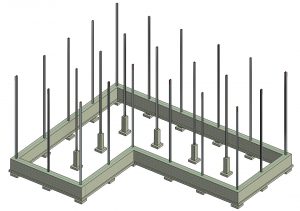 Figure 16.9 Steel columns placed shown in 3D view
16.7 PLACE PERIMETER FRAMING
Open the Level 2 plan view
Go to the Structure tab and select the Beam icon
Use the Type Selector to choose the W12X26
On the Ribbon make sure the Tag On Placement is selected
On the Option Bar make sure the box next to Chain is checked
Click the midpoint on the column at 1/A, drag the cursor to the midpoint on the column at 2/A and click again
Continue this chain along the exterior columns as shown in Figure 16.10


Figure 16.10 Perimeter beams placed along exterior columns shown in plan (left) and 3D view (right)
Use the Type Selector to chose the W8X10 beam
Now add beams in across the interior of the building as shown in Figure 16.11


Figure 16.11 Interior Beam System placed on interior grid shown in Plan View (left) and in 3D view (right)
In the 3D view, select an 8×10 beam
Right click, Select all Instances, then choose In Entire Project
On the Ribbon, click the Copy Icon
Click the Paste drop down arrow then choose Align to Selected Levels
In the window, press and hold the Control key down to select Levels 3, 4, and Roof
Click OK
Repeat the Copy and Paste to selected level steps for the 12×26 beam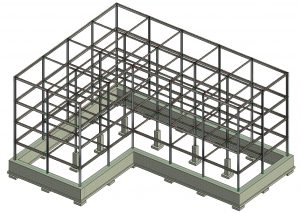 Figure 16.12 Perimeter beams placed on each level shown in Plan View
16.8 PLACE BEAM SYSTEM
In the Level 2 Floor Plan view, go to the Structure tab and select the Beam System icon 
In the Properties Palette change the following parameters

Beam Type: W Shapes: W12x36
Layout Rule: Max Spacing
Maximum Spacing: 4'0"

On the Ribbon, make sure the Tag On Placement icon is selected
Hover over the W12x26 beam between Grids 1/B and 2/B
Click to place the system
Continue this until all systems are placed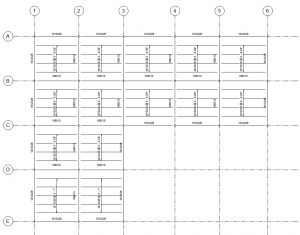 Figure 16.13 Beam Systems placed shown in Plan View (Shown in 1/18"=1' scale so annotations don't overlap)
Hover over the edge of one of the beam systems and select it
Right-click, Select all Instances, then choose In Entire Project
On the Ribbon, click the Copy Icon
Click the Paste drop-down arrow then choose Align to Selected Levels
In the window, press and hold the Control key down to select Levels 3 and 4
Click OK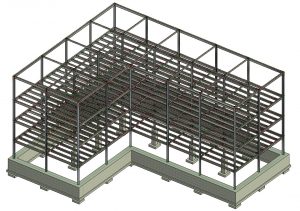 Figure 16.14 Beam System placed on level 3 and 4, shown in 3D view
16.9 PLACE JOIST SYSTEMS
Go to the View tab
Use the Plan View drop down to select Structural Plan
In the New Structural Plan window select Roof and click OK
In the Roof View, select all vertical beams by holding down the Shift key
In the Properties Palette, change the z Offset Value to -0'5"
Click Apply
Go to the Insert tab, then select the Load Family icon 
Follow this folder directory

English Imperial, Structural Framing, LH-Series Bar Joist.rfa

The Specify Types window will appear. Choose the 18LH02
Go to the Structure tab then select the Beam System icon
On the Option bar change the following parameters

Beam Type: 18LH02
Check the box by 3D

Hover over the beams and place the system in the same horizontal direction
Go to the 3D view to verify the joists sit on the beams


Figure 16.15 Joist systems placed shown in Plan View (left) and in 3D view (right)