UTA Libraries provide no-cost access to Pressbooks for UTA faculty, staff, and students interested in creating or modifying OER. Pressbooks is a web-based publishing tool that allows authors to easily import content and export the resulting publication to a variety of formats, including MOBI, EPUB, and PDF. Additionally, the platform and compatible plugins support embedded multimedia, interactive assessment, and web annotation.
Images must be openly licensed, in the public domain, or reused with written permission from the copyright owner
Videos must be hosted on a public platform (e.g., YouTube)
Interactive assessment developed using the H5P plugin integrates with your Canvas gradebook
Public or private web annotation can be enabled in Pressbooks using Hypothesis
Mavs Open Press OER can be viewed online via Pressbooks or downloaded in multiple formats for offline viewing. Pressbooks should not be used with Internet Explorer. The following browsers are best to use with Pressbooks:
Firefox
Chrome
Safari
Edge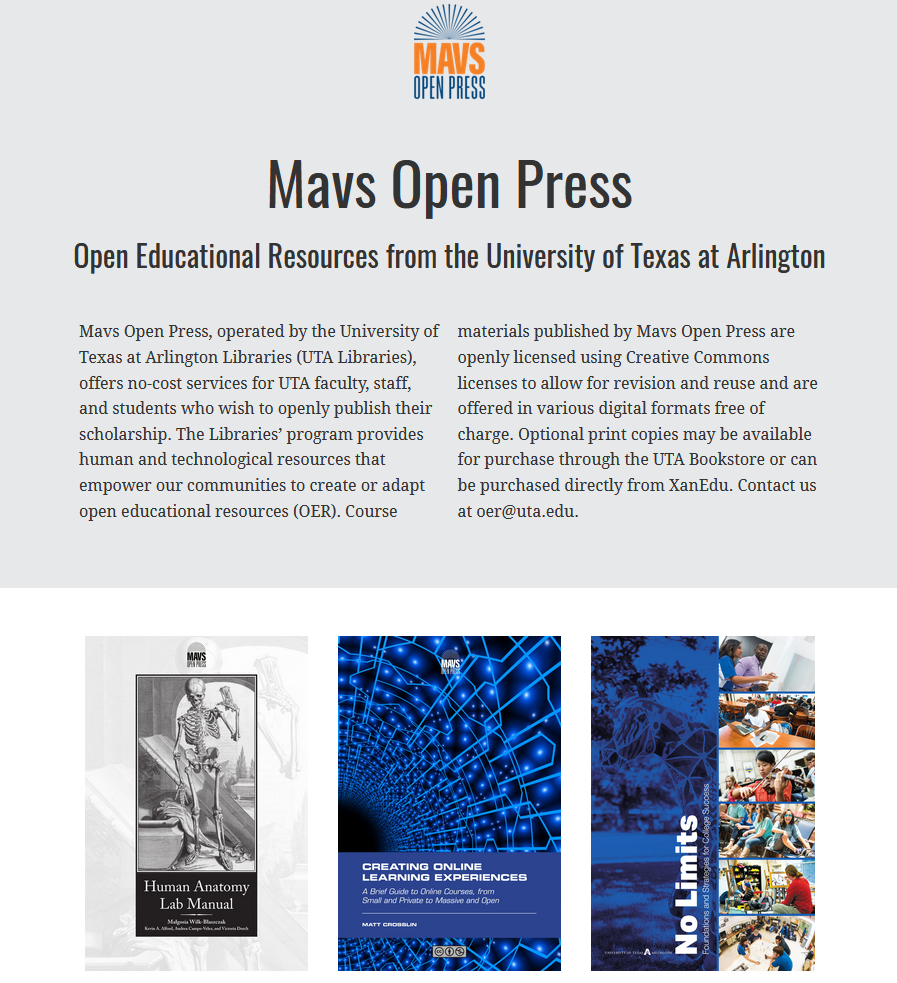 Request Forms
Request Pressbooks Account or Sandbox Access
Use this form to request a free UTA Pressbooks account and access to the Mavs Open Press Sandbox. The Sandbox offers an environment where anyone at UTA can experiment with Pressbooks and learn about the platform. Feel free to add, remove, and edit content while you're in the Sandbox. You may also use this form to request the addition of new team members to your Pressbook.
Request Pressbooks Site
Use this form to request your own site with a unique URL on UTA's Pressbooks platform. Please note that all resources supported by Mavs Open Press must be openly licensed, allowing for downstream users to remix and reuse the content. Sites should be requested only after the project name has been finalized, as the URL cannot be changed once it has been created.
Resources from Pressbooks